Alamance Born. Alamance Trusted.
Alamance Republican.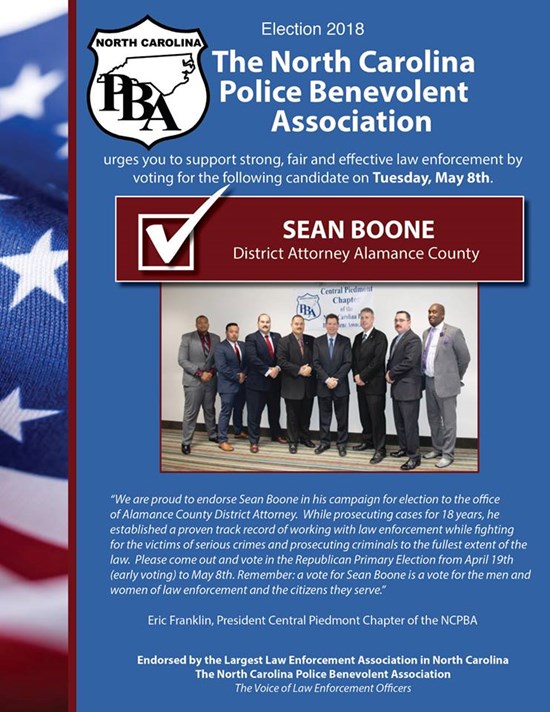 "Alamance County established the moral and educational foundation upon which my life of public service was built. I am forever indebted to my home county and would be honored to serve as your District Attorney."
Sean Boone
THE OFFICIAL SITE FOR SEAN BOONE FOR DISTRICT ATTORNEY
News
Thursday, December 6, 2018 10:33 AM
Public Swearing In January 2
On December 3rd, I had the privilege of attending the swearing in ceremony for our new Clerk of Court Meredith Edwards and her staff, and later that of Sheriff Terry Johnson and the men and women who serve in our Sheriff's Office.
Both of these offices are critical to my efforts to make our courts more efficient and our county safer, and I am blessed to have these public servants working with me toward these goals.
Although I have been working diligently since the May primary in preparation of becoming District Attorney, I will formally take office January 1, 2019. Because it is a holiday and courts are closed, I will take my official oath privately that day in order to promptly assume my Constitutional duties. However, on January 2nd at 8:30 a.m. in the Superior Courtroom in the J.B. Allen, Jr. Courthouse, I will join my team in taking our oaths together before heading to court to do the business of Alamance County. This ceremony is open to the public, and you are all welcome to be a part of this special occasion.

---
Thursday, October 11, 2018 3:07 PM
Welcome Alex Bass back to Alamance County
I am excited to announce that my good friend Alex Bass was recently sworn in as an Assistant District Attorney for Alamance County. When I won the Republican primary in May, he was the first person I approached about taking a position as my Chief Assistant District Attorney. Even though I do not take office until January, the opportunity arose for him to start early.
Alex brings a wealth of experience to the D.A.'s Office. He is a graduate of Davidson College and Wake Forest School of Law. He has 26 years experience as a prosecutor, most recently serving as Chief Assistant District Attorney in Buncombe County for the last 3 and a half years. He will be a great resource for our younger prosecutors, and will be trying our most serious cases. Welcome back, Alex!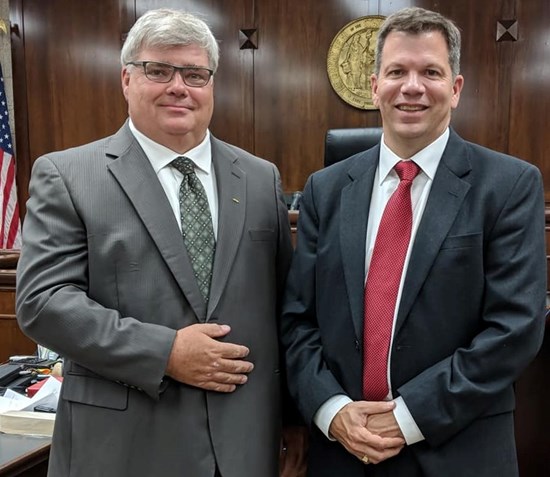 ---
Tuesday, May 15, 2018 8:25 AM
Thank You
Today I am beyond humbled as I reflect upon not only the results of last night's election, but on the months of work and thousands of people my family and I encountered throughout this process. I have many thanks to give, and it begins with God. There is no more awesome, powerful, steadying, loving Being in the world, and without His blessing there is no way that we overcome the 2 strongest political machines in our county, our entire Republican legislative contingent, and other prominent obstacles to our effort. I asked for prayers from most everybody who asked what they could do for me, and it worked.
My family, especially my wife Dodie, stood by me when I was most discouraged and anxious, and they courageously and graciously shared those experiences with me. You should be able to count on family, and I am blessed beyond all measure with mine, and this includes lifelong friends who are like family to me. The people who supported, counseled, guided, and helped me are too many to put in a Facebook post, but I love you and and I look forward to thanking you all personally. I want to make a special point to thank our law enforcement community -- I told people, officers included, that you don't win elections without law enforcement, because people trust their opinions about public safety matters. Our law enforcement officers are the backbone of our county, providing the safety and security that many take for granted every day. I ran on a platform of reforming their court-related obligations, and that will be a priority. In that same vein, I want to thank our probation officers, clerks, detention officers, court staff, and everyone who believed in my sincere desire to make our courthouse more efficient.
On a more practical note, since I will not take office until 2019, I intend to spend the next few months speaking to our courthouse personnel, attorneys, court-related agencies, and law enforcement officers about everyday improvements that can make us more efficient. With respect to our larger vision, I ask you all to keep with our message through this campaign: Make Alamance safer. To this end, I expect some will use our campaign as a blank canvas upon which to project their expectations; this will inevitably lead to disappointment. The abiding message we kept through our campaign, and which I want to leave everyone with now, is this: I will use my experience and my abilities to best protect this county and its people. I will be guided by the evidence and a sense of justice. Popular opinion, political obligations, and influential donors do not define justice, and thus I am not beholden to any of them. God put me here, you put me here, and to justice I am obligated.
God Bless you all,and God Bless Alamance County.
Sean
---
Tuesday, May 1, 2018 10:45 AM
Court Waste - Times-News Investigates
Per the Times-News, the publication date has been pulled, so you won't see this in their paper before election day. Courthouse personnel know about the waste; share and help others learn as well.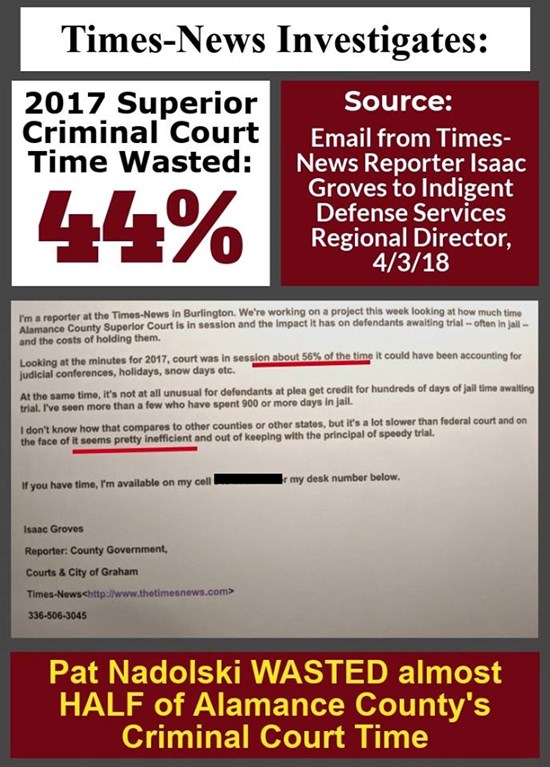 ---
Friday, April 20, 2018 4:27 PM
The Truth About the Conviction Rate
Pat Nadolski is now accusing me of misleading? His graphic includes the made up "conviction rate," which I have already debunked by the disclaimer from the Administrative Office of the Courts (see attached). Also, the assertion that serious felonies are DOWN seems a bit off given that Burlington had more murders in 1 week this April (3) than my opponent has tried in his career. Nadolski has a casual relationship with the truth, but keep up with our page to see more facts about the DA record.